7th Annual Patriotic Scavenger Ride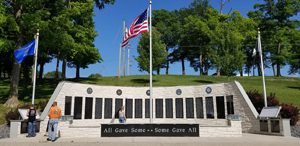 JOIN US AT THE THIRSTY BEAVER IN BEAVER DAM WI FOR THE 7th ANNUAL MOTORCYCLE & CAGES
PATRIOTIC SCAVENGER RIDE SUPPORTING HEROES' HUNT FOR VETERANS.
SATURDAY JULY 4TH 2020
REGISTRATION INFO
THIRSTY BEAVER BAR
500 MADISON STREET , BEAVER DAM, WI
$20 PER PERSON, $30 PER COUPLE – REGISTRATION FROM 11AM-1PM
FORM YOUR OWN RIDE GROUP – GET YOUR MAP
LEAVE AT YOUR LEISURE* – RETURN BY 6PM FOR PRIZE DRAWINGS
*RIDE TAKES APPROXIMATELY 3-4 HOURS TO COMPLETE
ALL RIDERS WILL RECEIVE A WRISTBAND GIVING THEM FREE ENTRANCE TO THE BAND FROM 7PM-11PM CALLED THE LEFTOVERS, A FREE MEAL PROVIDED BY THIRSTY BEAVER AFTER THE RIDE.
WE WILL ALSO BE SELLING RAFFLE TICKETS FOR A RUGER PRECISION .22LR WITH CUSTOM PATRIOTIC PAINT TO BE DRAWN AT BAND FIRST BREAK. TICKETS ARE $10 EACH AND LIMITED TO ONLY 300.
FOR MORE INFO, CONTACT: MIKE KADINGER (920) 285-2538
HHV 4th Annual Patriotic Scavenger Hunt
Heroes' Hunt for Veterans will be holding their 4th annual Patriotic Scavenger Hunt on June 30th 2018. It will be centered at our booth at the Celebrate Waupun Festival located on Spring st. by the Community Center. Sign up will begin at 10:30 am, this is not a large group ride, you ride at your own pace, all riders should plan on leaving by 1:00pm to be back by 5:00pm for cash & prizes. All types of vehicles welcome, rain or shine! Come support a great cause.
7th Annual Celebrate Waupun
June 29, June 30, July 1, 2018
Featured Activities

Car Show
Featured Meals
Carnival Rides
Heroes' Hunt for Veterans Booth and Scavenger hunt
Wounded Warrior Amputee Softball Team Game
August 10th-12th 2018
August 10th-12th 2018
HHV booth on 11th

       Come on out and support these Veterans!