Click here for personal memories from Camp Nickolas.
Camp Nickolas is in honor of Sgt. Nickolas Mueller 160th Special Ops " Night Stalkers Don't Quit" who was KIA in Afghanistan. His parents, Larry & Sharon Mueller, donated the money to put up a 12′ x 18′ wall tent, along with everything needed for a comfortable camp.  Many Vets have enjoyed the quality hunting on the Raith farm while staying at Camp Nickolas.  It's a great place to recharge your batteries thanks to the hospitality of the Raith family and their neighbors.  We look forward to many more years of friendships and memories. 
---
Justin Marcum and Sarge drove up from Texas to hunt with HHV.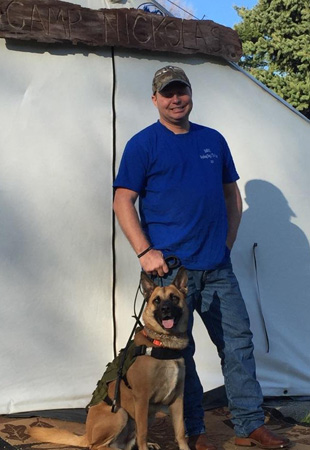 ---
This is Dave Takkinen with a couple doe shot that day.