Updated 7/20/16



If you tried to sign up for a hunt early Friday morning - July 15th - and have not received a call back please call again 920-324-8886. We still have some hunts available for this fall - deer, duck & goose.
Thank you - Brian Ball

i Vets remember JULY 15TH starts our sign up period for this falls hunts. We welcome disabled Vets as we have our own Action Track Chair, all Vets are eligible for these hunts. Call number below leave name & number & we will return all calls in the order they are received, this may take a couple days so please be patient. In our first two seasons our guides took out 81 Vets & lead them to 49 deer.

Thank you - Brian Ball

-----------------------------------------------------------------------------------------------------------


Hi everyone, as of June 1st 2016

Heroes' Hunt for Wounded Warriors will be changing our name to Heroes Hunt for Veterans. There has been a lot of confusion linking us to other charities with similar names. I'd like to assure everyone that we are still the same group of hard working volunteers committed to providing a quality hunting experience for deserving Vets.




2016 Celebrate Waupun - Motorcycles & Cages Event July 2nd!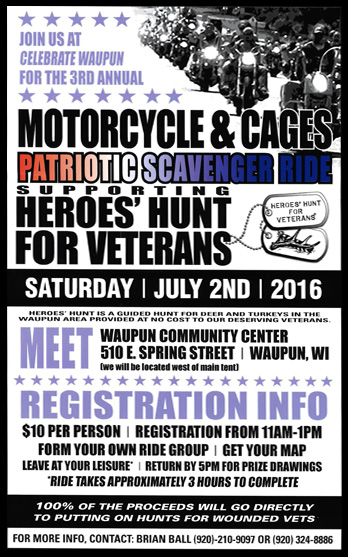 2016 Deer Hunting Announcement
Our sign-up period for deer hunts for Veterans who have not hunted with
HHV
will begin July 15, 2016 and run until August 15, 2016. After that, alumni of
HHV
can call for remaining time slots. Remember this is on a first-call…first-call-back basis.

Call Brian at 920-324-8886.

If no answer when calling, leave your name and number and we will return your call in the order it was received.
Thank you!

Heroes' Hunt for Veterans 2015

Brian Ball-Founder/Chairman being presented with a $2500 check from Red Eilebes-President of Mayville Gun Club.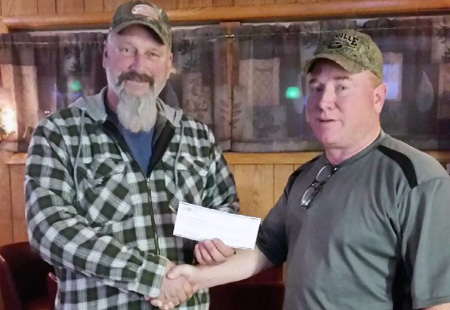 On Dec 5, 2015 the Mayville Gun Club put on an awesome event called "Santa's Shoot for Sharing". The weather was in the 40's and couldn't have been nicer for this time of year. They had trap shooting, sporting clays, raffles, food and refreshments; the turnout was HUGE with over 300 participants enjoying the beautiful shooting course they have.
THANK YOU to all who donated their time and treasure to make this event a success. Heroes' Hunt for Veterans will always be grateful for the kindness you've shown to help our deserving Veterans be able to enjoy the "great outdoors"!
In a couple of days we'll be posting some comments from some of our Veterans who stayed at "Camp Nickolas". Please real those and you'll know why we are doing what we do.
Thank you and God Bless. Brian Ball - Founder/Chairman
----------------------------------------------------------------------------------------------------------------------
Well the 2015 gun season has ended for our HHV Vets. Our guides did a great job putting the Vets on deer. According to my count, they took 16 doe and 2 bucks during the 9 day season. A few bucks, as well as many doe, were left to grow at the choice of the Vet. I can't thank our guides enough for giving up their deer season to spend time with our deserving Vets. I also want to thank the landowners for their generosity of providing their land for HHV to take our Veteran guests hunting on.
The bow season started kind of slow, lots of deer seen, but missed. The Vets say "there's too much room around 'em"! LOL They did, however, take some nice deer, 8 doe and 3 bucks. Late bow season continues until January 3rd, so we'll keep on hunting until then.
Thanks to everyone involved in HHV. Merry Christmas and Happy New Year! - Brian Ball - Founder/Chairman
----------------------------------------------------------------------------------------------------------------------
Brian Ball-Founder/guide, Sharon Ball, and Charles Fischbach with the beautiful patriotic plaque given to HHV by Charles in memory of our fallen Heroes. Thank you Charles!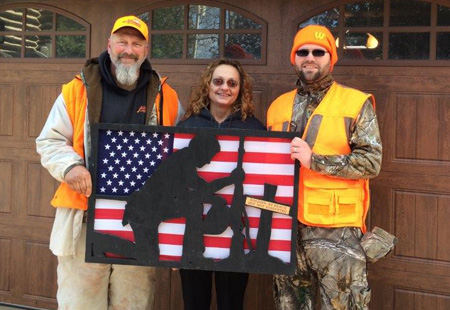 ----------------------------------------------------------------------------------------------------------------------


Heroes' Hunt for Wounded Warriors would like to thank all of our wonderful Veterans who put their life on the line to protect our freedom! We love you and can never say THANK YOU enough!



Welcome to the Heroes' Hunt for Veterans website!

Click here for a great article on HHV,
written by President Brian Ball and published in

Badger Sportsman

.

Recent Photos!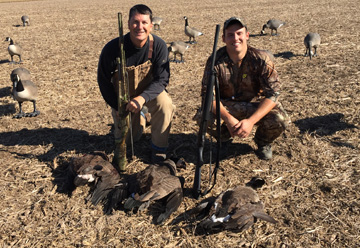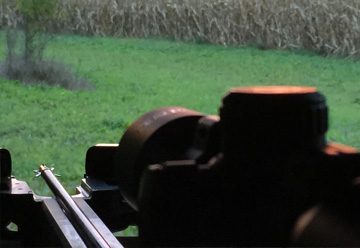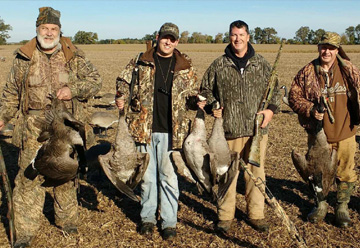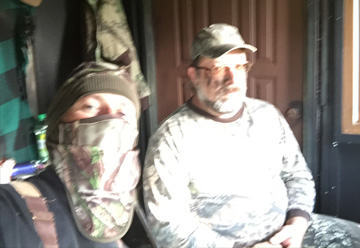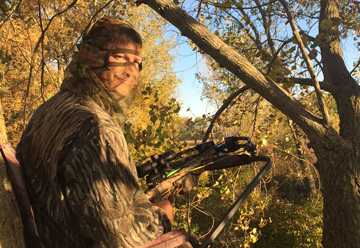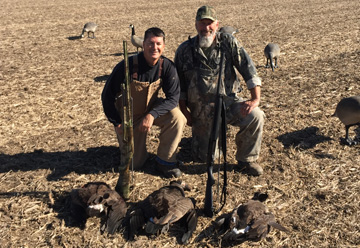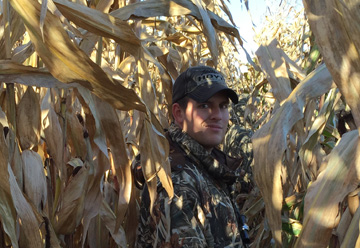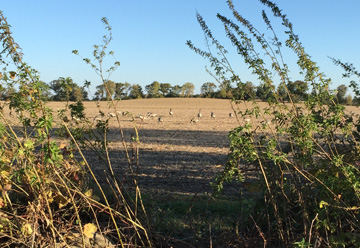 Check out the new items on the Events page
and go to the News page for recent events and an update on this year's deer hunts!


SIGN UP INSTRUCTIONS

All Veterans who have not previously hunted with HHV can call Brian after July 15, 2015 at (920) 324-8886 to setup your hunt. If there is no answer please leave your name and a number to call you back at. We will be taking 4 to 6 hunters per weekend (at our discretion). These hunts are on a first call basis, so please choose your weekend carefully. HHV Alumni can call after August 15, 2015 to fill any remaining time slots. We look forward to hunting with you!
Click here for Testimonial by a Great Vet!
Levi Koski received two

Purple Hearts

for his service in Iraq. His Humvee was blown up killing the four guys below him, Levi had a broken back and pelvis. After healing from that, he went back to Iraq and was injured by a bullet.

DEER HUNT ANNOUNCEMENT

If you are a Veteran wishing to deer hunt with us for the 2016 bow, gun, muzzleloader and/or late bow season and have not hunted with us before, you can sign up starting July 15th thru August 15th. Alumni Vets can sign up starting August 16th until the time slots are filled up. There are 16 weekends with 3-4 hunters per weekend. Please pick your weekend carefully and commit to it, as we don't want to waste an opportunity for someone else. The license, hotel, and 2 good meals a day are all paid by generous donations. Most blinds are handicap accessible! We encourage first-time hunters; we had 14 Veterans hunt in 2014 and they harvested 19 deer. Check our website for sign-up instructions after June 15th.
This year our hope is to continue building at least 1 more permanent blind for one of our properties. We now have about 800 acres enrolled in HHV for our Veterans to enjoy, and it is some real quality hunting land I might add. Thank you landowners!
The NRA came thru with an awesome grant to help build our 20 ft. trailer blind/shooting platform. Once completed, we'll take it to events as a display to promote HHV and the NRA. Then once season starts, it'll be our portable blind.
Click here for a list of some of our supporters
and thank them for the generosity to provide something back to our Wisconsin Veterans. If you have any questions, please contact us.
Thank you!
Brian Ball - Founder/Chairman
ATTENTION:
The Heros' Hunt for Wounded Warriors is looking for veterans who possess a 2015 Wisconsin DNR Turkey Tag for Zone 2. We would love to offer you a guided turkey hunt as part of our Heros' Hunt for Wounded Warriors program.


Extra Zone 2 tags go on sale Tuesday, March 24th at

10am
, then all remaining turkey tags will go on sale
Saturday March 28, 2015 at 10am
at your DNR license retailer. If you are successful at securing a tag, let us know ASAP as hunting dates and times will fill quickly.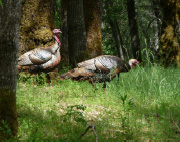 Do not miss out on a lot of earth shaking, gobbling action! Send us an email and we will respond accordingly.
Mission Statement:
Heroes' Hunt is a non-profit organization designed to benefit wounded or disabled veterans,
which gives them the opportunity to experience a quality, guided, free-range, deer or turkey hunt.
Fair Chase Deer and Turkey Hunts
The free range deer and turkey hunts are provided at no cost to the veteran.
Farmers and land owners are encouraged to get involved as this project grows, more hunting land will be needed.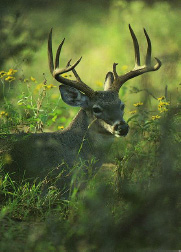 Freedom is not free!
Heroes' Hunt is a great way to give back to the men and women that have given so much.
The great outdoors can provide much needed comradery, joy and excitement.

A "veteran"- whether Active Duty, Discharged, Retired, Reserve or Guard – is a person who, at one point in their life, wrote a blank check made payable to the United States of America, for an amount up to including their life!


Support ALL veterans…they served for you.